Hey there, well isn't this nice and shiny and new!  Welcome to David Martin Wheeler's new website, store, and general piece of the ol' Internets.  My name is Lou, and I'll be the one running things around here for my dad.
Why a new website?  Well, long story short, there's a new CD to sell, and we decided to set something up for people to be able to order their copies, as well as whatever else my dad decides to put up here.  One place for songs, music, the occasional merch, and possibly some random musings.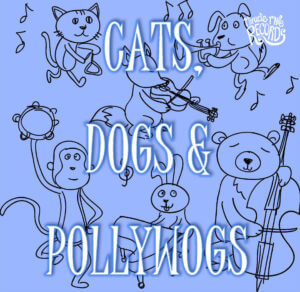 Anyway, to the point at hand:  David has been included in a fun compilation of children's songs, called "Cats, Dogs & Pollywogs", put out by Miracle Mile Records.  The album features 11 different local artists, with David leading off the album. David has physical copies of the CD available for sale in the Shop page, so take a look!
And keep checking back for more news and updates from David, along with on YouTube and Facebook!